A smartphone application has recently come out that is driving the world crazy. It's a game, it's free and yes, I'm talking about Pokémon Go. Able to catapult us into an augmented reality in search of bizarre animals we must capture and train them to make them fight each other trying to win and conquer gyms. Animals that many of us became fond of in the 90s thanks to the cartoon of the same name. As a good nerd I certainly could not desist from talking about it. And how to integrate them into the blog if not thinking of themed looks? Here are some modern Pokémon outfit inspirations that you can recreate in everyday life.



Premising that the male version of Pokémon outfit taken from the catwalk looks turns on the net, I thought of taking it back by interpreting it in the female way by selecting the garments with the big names in fashion without worrying about hypothetical expenses. At least with the fantasy let's take some whim, right?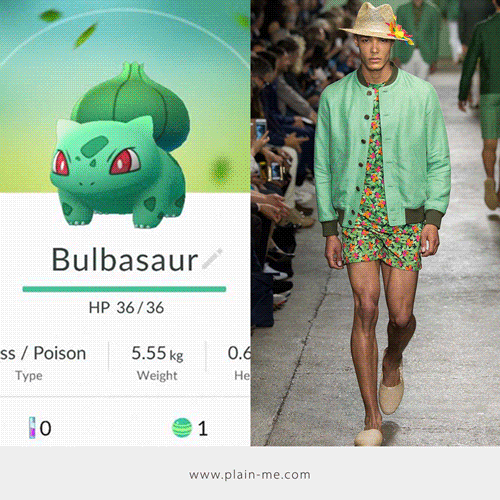 Pokémon outfit: 8 looks inspired by the main cartoon animals
Bulbasaur

Type: Grass/Poison
Weight: 6.9 kg
Height: 0.7 m
(Dolce & Gabbana dress, Aquazzurra sandals, Gucci bag, hat Patrizia Fabri, Fendi sunglasses, Rosendahl watch, earrings and bracelet Plukka Michele della Valle.)
Charmander
Type: Fire
Weight: 8.5 Kg
Height: 0.6 m
(Top Narciso Rodriguez, Giambattista Valli skirt, jacket popmap.com, boots Charlotte Olympia, Chloé bag, V by Very scarf, sunglasses Tiffany & Co., Irene Neuwirth earrings and ring Lucifer Vir Honestus.)
Eevee
Type: Normal
Weight: 6.5 Kg
Height: 0.3 m
(Sweater Stella McCartney, Marni trousers, boots Gianvito Rossi, Prada bag, scarf Acne Studios, from Miu Miu sunglasses, Apple watch, bracelet Tiffany & Co. and Cartier ring.)
Jigglypuff
Type: Normal/Elf
Weight: 5.5 Kg
Height: 0.5 m
(Valentino dress, headband and bag Dolce & Gabbana, Giavito Rossi shoes, Goshwara ring and bracelet Tiffany & Co.)
Pikachu
Type: Electric
Weight: 6.0 Kg
Height: 0.4 m
(Moschino shirt and scarf, pants Isabel Marant, Love Moschino sandals, bag and cover Fendi, Chanel sunglasses, earrings and bracelet Edge Only Bee Goddess.)
Poliwag
Type: Water
Weight: 12.4 Kg
Height: 0.6 m
(Knitted Gucci, Dondup jeans, jeans jacket Acne Studios, Converse sneakers, Stella McCartney bag, sunglasses Movitra, bracelet Tory Burch and Michael Kors brings iPad.)
Snorlax
Type: Normal
Weight: 460.0 kg
Height: 2.1 m
(Dress Dolce & Gabbana, Max Mara coat, Jimmy Choo shoes, bag Hermès, Burberry gloves, Cartier sunglasses, Chanel bracelet and ring Anne Sisteron.)
Squirtle
Type: Water
Weight: 9.0 kg
Height: 0.5 m
(Shirt Yves Saint Laurent, trousers Antonio Berardi, dancers Chloé, Chanel bag and brooch, hat Rag & Bone, Ray-Ban sunglasses, thepearlsource.com necklace, bracelet Kate Spade and cover valfre.com.)
Obviously there are others that I love and remember with pleasure like Psyduck, Meowth, Abra and Ponyta but in color they are similar to those already proposed and it seemed useless to insert them. To conclude, if you are a game lover, you will be pleased to know that on Glamor Affair I wrote an article where I explain how to play Pokémon Go and reveal all the necessary tricks.
Credits: Set by Polyvore.