This summer he's out Pokémon Go, game app for smartphones that can catapult us into an augmented reality in search of bizarre animals. Animals to which many of us have become attached in the 90s thanks to the eponymous cartoon. There I talked more specifically about Glamour Affair good nerd but I certainly could not desist from even tell you about it on my personal blog. And how to integrate them here if not thinking about the theme look inspired by my favorite Pokémon left in the mind for all these years?
Assuming that the network runs the male version recovered from the outfits of the catwalk, I thought I'd take it by interpreting the feminine selecting leaders from major fashion without regard to hypothetical costs. At least with fantasy let us take off some whim, right?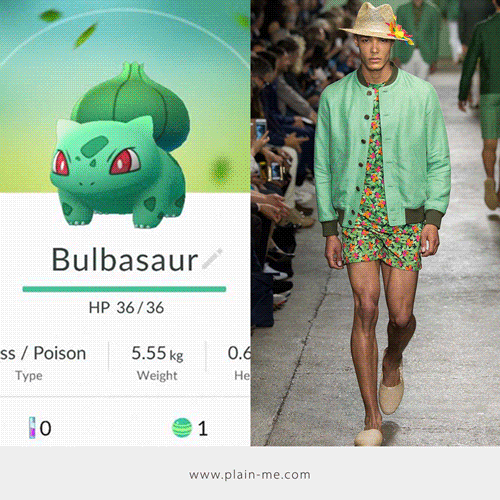 Pokémon Go, the inspired look to the principal animals of the cartoon
Bulbasaur

Type: Grass/Poison
Weight: 6.9 kg
Height: 0.7 m
Dolce & Gabbana dress, Aquazzurra sandals, Gucci bag, hat Patrizia Fabri, Fendi sunglasses, Rosendahl watch, earrings and bracelet Plukka Michele della Valle.
Charmander
Type: Fire
Weight: 8.5 Kg
Height: 0.6 m
Top Narciso Rodriguez, Giambattista Valli skirt, jacket popmap.com, boots Charlotte Olympia, Chloé bag, V by Very scarf, sunglasses Tiffany & Co., Irene Neuwirth earrings and ring Lucifer Vir Honestus.
Eevee
Type: Normal
Weight: 6.5 Kg
Height: 0.3 m
Sweater Stella McCartney, Marni trousers, boots Gianvito Rossi, Prada bag, scarf Acne Studios, from Miu Miu sunglasses, Apple watch, bracelet Tiffany & Co. and Cartier ring.
Jigglypuff
Type: Normal/Elf
Weight: 5.5 Kg
Height: 0.5 m
Valentino dress, headband and bag Dolce & Gabbana, Giavito Rossi shoes, Goshwara ring and bracelet Tiffany & Co.
Pikachu
Type: Electric
Weight: 6.0 Kg
Height: 0.4 m
Moschino shirt and scarf, pants Isabel Marant, Love Moschino sandals, bag and cover Fendi, Chanel sunglasses, earrings and bracelet Edge Only Bee Goddess.
Poliwag
Type: Water
Weight: 12.4 Kg
Height: 0.6 m
Knitted Gucci, Dondup jeans, jeans jacket Acne Studios, Converse sneakers, Stella McCartney bag, sunglasses Movitra, bracelet Tory Burch and Michael Kors brings iPad.
Snorlax
Type: Normal
Weight: 460.0 kg
Height: 2.1 m
Dress Dolce & Gabbana, Max Mara coat, Jimmy Choo shoes, bag Hermès, Burberry gloves, Cartier sunglasses, Chanel bracelet and ring Anne Sisteron.
Squirtle
Type: Water
Weight: 9.0 kg
Height: 0.5 m
Shirt Yves Saint Laurent, trousers Antonio Berardi, dancers Chloé, Chanel bag and brooch, hat Rag & Bone, Ray-Ban sunglasses, thepearlsource.com necklace, bracelet Kate Spade and cover valfre.com.
Of course there are others that I love and I remember with pleasure as Psyduck, Meowth, Abra and Ponyta but color are similar to those already proposed and it seemed useless to insert them. You about what you say to me? You watched the cartoon? Who was your favorite Pokémon, and which of my looks offered you enjoyed the most?
Credits: Set by Polyvore.